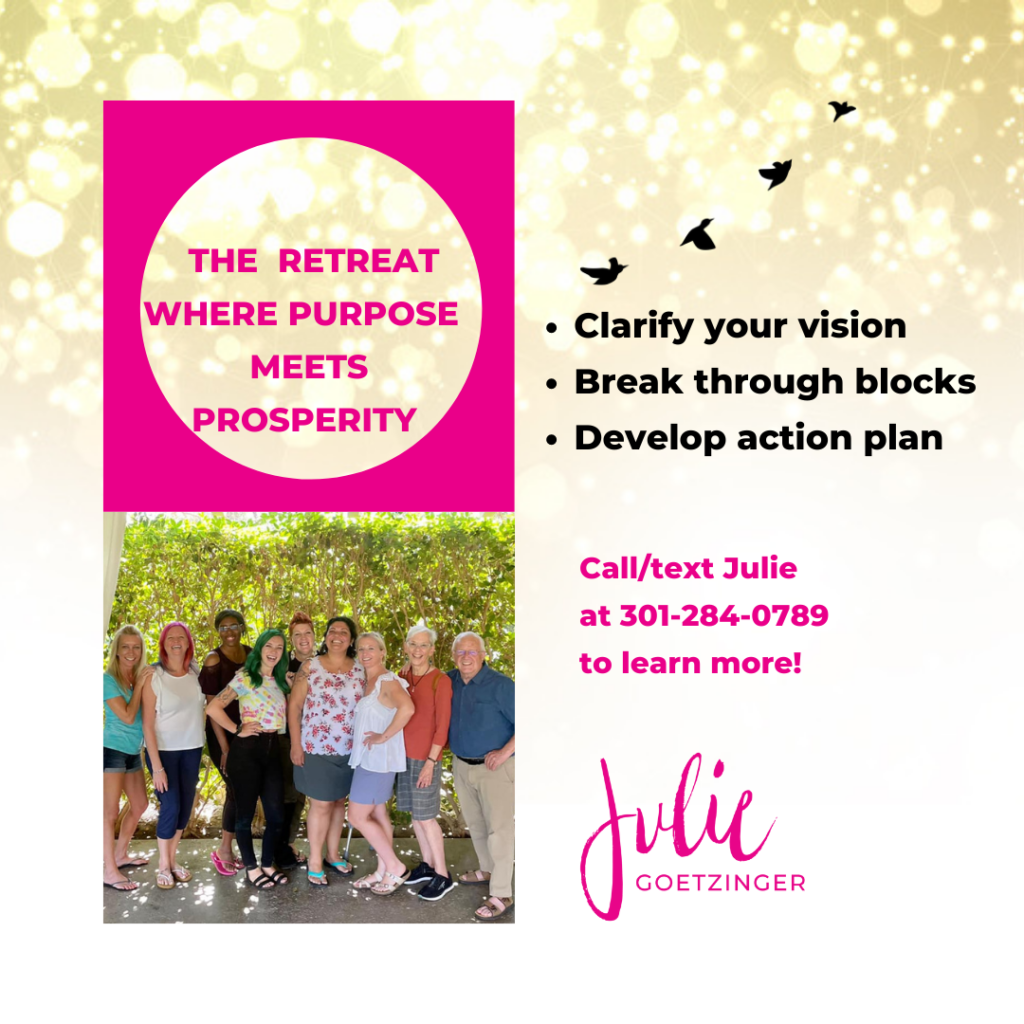 The Retreat: Where Purpose Meets Prosperity
After we go through life's challenges, it can leave us in a place of wondering what's next for us and how we're meant to serve in the world now. We don't want our pain to have been in vain and often have a desire to help others through what we have just overcome ourselves.

Maybe you want to write a book, speak on stage or start a coaching business to help others through what you have already overcome in your own life.
If this sounds like you, I invite you to check out our retreat called, The Retreat: Where Purpose Meets Prosperity. We will be focusing on:
Clarifying your vision
Breaking through any blocks to it being successful
Developing a plan of action
At our retreat, attendees can expect to:
Receive clarity around a business idea they want to bring into reality
Receive intuitive guidance from Julie to reveal any blocks to your vision being successful so that we can clear them together
Release any blocks to your business being more successful
Create a 90-day implementation plan for action steps to bring your vision into reality
Connect with like-minded professionals who are also on a journey of creating a more purposeful and prosperous life
After our retreat, we'll have a mastermind program including business, mindset, and accountability support to help you as you bring your dream into reality.

More Client Testimonials!
Do the work, let Julie IN and be vulnerable! Watch your abundance grow before your eyes. When I signed up for her Money Intensive program and the Abundance Breakthrough Retreat, my goal was originally to make $6,000 in the next 30 days. Through her guidance I kept hearing $12,000 so decided to change it – after her guidance I am sitting at over $13,000 this month!! Julie is inspirational, truly intuitive and a life saver. She helped me, healed me and gave me tools I will forever use in my life and business."

Devanie McCartney
During the Abundance Breakthrough Retreat I let go of a lot that was holding me back and now I feel ENERGIZED!!! I especially enjoyed the marketing conversations and they left me feeling all amped up. I also left the retreat with the realization that your chosen family IS your family."

Jude Anderson
---
The Abundance Breakthrough Retreat is one of the deepest and heartfelt dives that I've done when it comes to my healing. Every activity and share displayed beautiful transformation in each of us. It is incredible how much a 3-day block can completely transform you on the inside. I had some anxiety before the retreat started due to how much I was (or wasn't) willing to share. That completely melted away once I witnessed Julie's leadership and compassion. Not only through her sharing, but others having the courage to share from their depths, I knew I was safe to be witnessed and led to my own healing."

Crystal McGowan
---