Manifest with Ease: Free, LIVE, 5 day Master Class
We didn't come here to work hard and never get the time to relax and enjoy our lives. In our Manifest with Ease Master Class, Julie will share her 4 step manifestation process that will help you to get what you want with greater ease.
The free master class will be held over Zoom May 31- June 4th 12:00-1:00pm ET.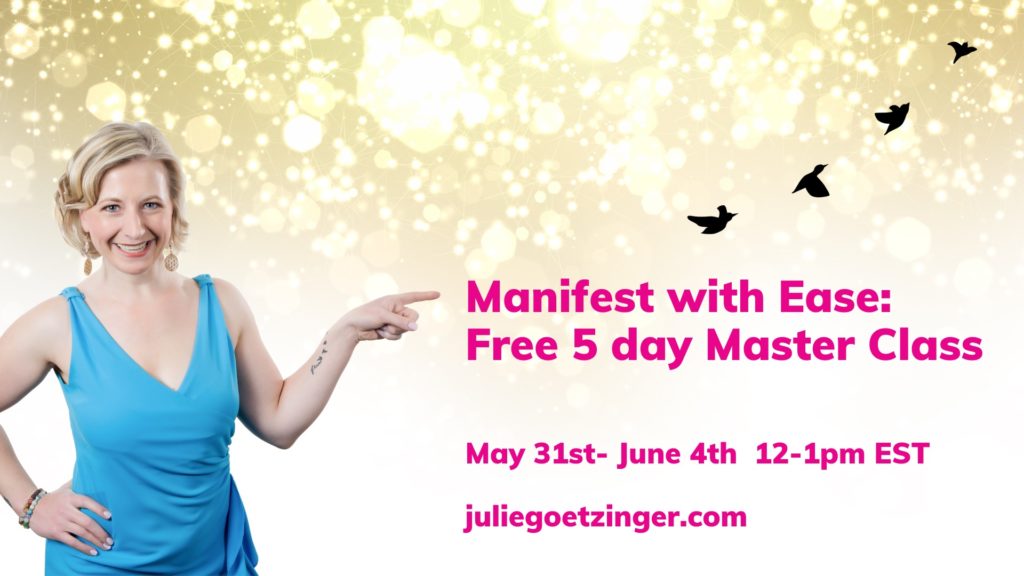 About the host: Julie is the author of, "Free to Fly: Manifest the Life of Your Dreams," host of her podcast, "Absolutely Abundant: A Podcast for Soul Aligned Creatives," an abundant life coach and inspirational speaker who went from being overweight, underpaid and feeling trapped in her relationship to being financially free, healthy and to have the ability to go and do as she pleases and wants to show you how you can do the same!
Praise for her book, "Free to Fly: Manifest the Life of Your Dreams:"
This "must-read" book is a powerful guide to cultivating and amplifying your intuitive gifts in service of greater abundance, alignment, and attraction. It's enjoyable, and packed full of practical, easy-to-apply daily practices."
Michelle Villalobos, MBA, CSP, author of But I Want to Fly: A Children's Book for Dreamers of All Ages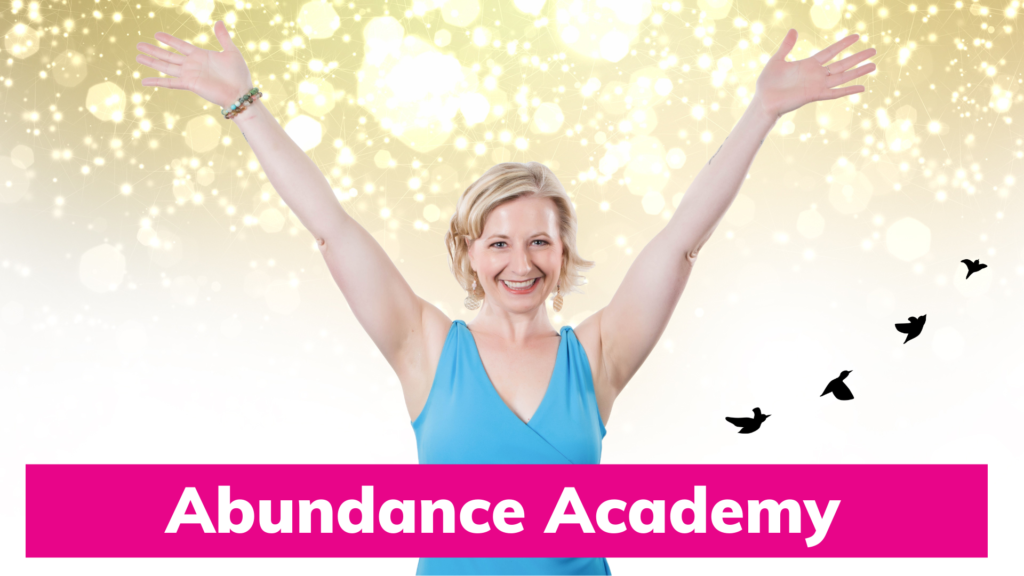 Online, live group coaching program to help you get what you want with ease and to gain the courage to launch those new dreams!
Do you have an amazing idea for a new program or book to write but aren't sure why you haven't started/launched it yet?
Or maybe you have the desire to relax and enjoy your life more but fear that if you do everything you've worked so hard for will go away.
Do you want to scale your business but fear that if you do you'll feel even more overwhelmed than you do now and have even less time to spend with friends/family?
Or maybe you're wanting to move in a completely different direction but fear letting others down if you let go of something that you've been doing for many years.
Wherever you are currently, our Abundance Academy will show you what's standing in the way and together we will release those blocks so that you can live the more joyful, ease filled life you came here to live.
Through our "Declutter Your Life" process in our 6 week, live group coaching program we will let go of unhealthy habits, thoughts and behaviors that are slowing down the manifestations that are wanting to come your way.
Here are some of the results our clients enjoyed as a result of doing this program with us:
Dave Rosenberg manifested the largest paying keynote speaking gig of his career and it was closed during a short, three-minute phone call!
Sarah Karp manifested a dream client who saw the value of her custom wellness coaching and told her she would pay her double for her services!
Wanda Loubriel manifested seeing a real, live peacock, which she later found out was a sign of prosperity. She went on to have a client prepay her $2,200 for a photography collection, which was the exact amount she needed to attend our Abundance Breakthrough Retreat! She is currently focusing on manifesting the funds to join Free to Fly, which she knows she will be doing since she already had a vision of herself with us in Costa Rica!

Chanda Rawlings received a very unexpected cash gift from her brother for helping him out, a bonus, and an unexpected raise at work!
Pauline Duncan manifested a trip around Australia after gaining the courage to sell her home and follow her dream of living beside a beach with her three kids and fur babies, even gaining a new puppy that she had been dreaming of for thirty years!
Lauren Cano manifested remembering the power of her voice and speaking her truth! This is the power of coming together as a community to share our goals and to celebrate each other because we know that when one of us wins, we all win.
The second part of our program is when you will learn how to connect deeper with your own intuition so that you will know the next best steps to take in your business and in your life and will learn how to trust yourself more than ever before. I'm describing this section of my course to be like Hogwartz (from Harry Potter) because you will learn the tools that will help to magically manifest what you've been asking for!
Open enrollment begins on June 4th!
Have questions? Set up a free phone chat with Julie here!
Money Intensive Program
If you're wanting to clean up your money mindset and welcome in more cash with ease, you'll want to check out our Money Intensive program!
This is an entry level program for anyone wanting to clear money blocks so that you can allow a lot more of it to flow in without having to work so hard to get it or keep it!
All of the meditations in this program were downloaded to me directly from Spirit and are the same meditations that I used to clear my own path to abundance. Using the same methods I teach in this course, I was able to hit 6 figures in less than a year my first year as an Abundant Life Coach!

Here are some of the results my clients have had from working with me:

**Manifesting $45,000 in 40 days
**Landing their dream clients
**Having the confidence to quit their day jobs and to go full-time with their business
**Selling their top packages and collections with ease
**Being transformed from the inside out

For a sneak peek into Money Intensive, here are the topics of the modules and the welcome video so you'll know what to expect!
Video 1: How to Meditate
Video 2: How to Cleanse and Protect your Energy
Video 3: How to Connect with Your Higher Self through Automatic Writing
Module 1: Release the limiting belief that, "Making money is hard."
Module 2: Release the limiting belief that, "It's lonely at the top."
Module 3: Release the desire to compare yourself and the speed of your progress to others.
Module 4: Reexamine the boundaries you've set and make a new agreement with yourself for what you are and are no longer available for.
Module 5: Release past judgements and resentments.
Module 6: Return to a sense of balance within yourself.
Upon enrolling in our program you will receive:
Video modules to work through at your own pace
30 minute 1:1 call with Julie including intuitive guidance and support
Julie's full meditation library that you can revisit as many times as you'd like
Access to our private Facebook group where you will receive the support from our community and be able to partner up to practice giving intuitive readings
The cost of this program is $1297. Ask about payment plan options.
Check out some of the results my clients have had with this program below!

CHECK OUT WHAT MY CLIENTS ARE SAYING IT'S LIKE
TO WORK WITH ME!
Since taking the money intensive program, our inquiries have been massive…I'm booking weddings like crazy and am just shocked right now. It happened so easily the second I truly let go and accepted that it would happen. Next year we will take in $450,000 and it's all because of you, Julie Goetzinger!!!

MacKenzie Bates
After doing the very first journaling prompt in the money intensive program, I bawled and realized I had a huge trigger related to money. I finished the journaling, calmed myself, picked up the phone and BOOKED MY DREAM CLIENT!!! Thank you to Julie and this program!!!"

Ellie Kay
While working through the money intensive program, I pre-sold my HIGHEST COLLECTION!!! Before I took this program, I had a limiting belief that I was taking people's hard earned money and who was I to do such a thing…Now I realize that they have a choice and they chose me. I now feel honored, blessed and worthy of their choice. I'm so grateful for this course and change in mindset!"

Paige Bergeron
I started the money intensive program at the beginning of September and wrote in my journal that I would have a $25,000 month. I ended the month at nearly $37,000, the HIGHEST MONTH EVER in my business. And this time it felt EASY and I didn't feel overwhelmed or overworked. For anyone who thinks it's not possible, I promise it is, you are worthy and deserving of success!"

Taylor Shawley
The idea that you can't receive more money than your salary is a false notion. If that statement makes you angry or uncomfortable that probably says more about your limiting beliefs and blocks around money than you being annoyed I brought it up. The Universe is filled with abundance for you and you should lean into those feelings of gratitude. Money manifestation is a powerful tool that you can use! We manifested $45,000 in 40 days by taking Julie's money intensive program. Julie is an amazing coach and mentor and don't have to be a business owner to benefit from it, either!"

Kierra Jones, Boudoir Portrait Photographer
The money intensive program allowed me to analyze my relationship with money and associated perceptions. Julie's workshop provided guidance and challenged me to look within myself to identify the reasons for my negative attitude towards money. We worked together to heal my mental wounds and remove the roadblocks. Julie gave me the tools to forgive myself and heal my heart. This workshop has given me a new focus to believe in me, invest in me and invite unlimited abundance. If you want a change, I highly recommend investing in yourself, your growth and taking this course. You will then watch yourself BLOSSOM and your money GROW!"

Michelle Green