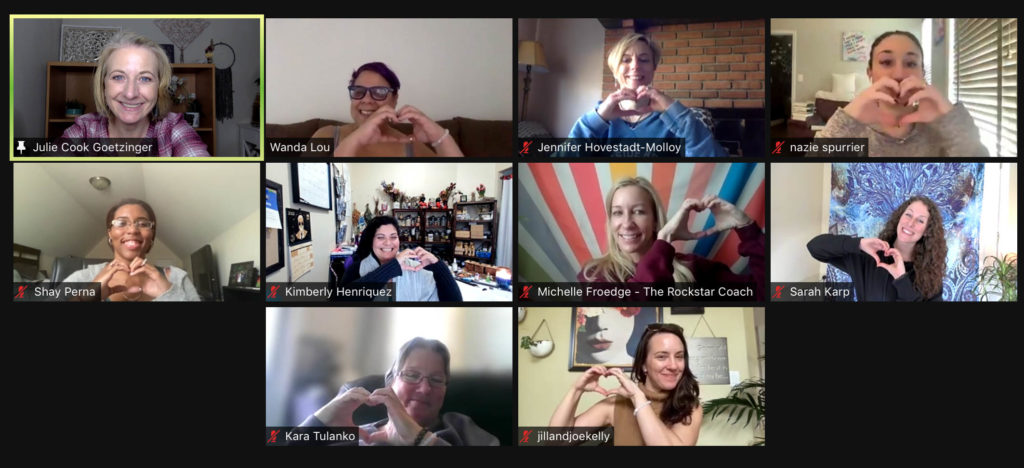 Virtual abundance breakthrough program to break through to the next level of success in your business
Who is the best fit for this program?
Coaches/authors/speakers/spiritual teachers/photography educators who…
*Have a desire to add monthly reoccurring revenue to their business
*Are curious about hosting in person retreats/workshops
*Aspire to step more into leadership as they grow their communities
*Desire more time freedom
*Desire more financial freedom

Who am I and why listen to me?
I am an entrepreneur with 7 years of experience who brought in over $100,000 in revenue in my first 7 months of implementing the business model I'm going to teach you as part of this program
International best-selling author of, "Free to Fly: Manifest the Life of Your Dreams"
I've hosted 7 retreats (domestic & international)
Host of, "Absolutely Abundant: A Podcast for Soul Aligned Creatives" & "Unleash Your Abundance Summit"
What results have my clients gotten from taking this program?
Before Taylor Shawley took our Abundance Breakthrough program, she wrote in her journal that she would like to have a $25,000 month. She ended the month at nearly $37,000, the HIGHEST MONTH EVER in her business. And she said that this time it felt EASY and she didn't feel overwhelmed or overworked. Taylor graduated from our Free to Fly program and is now studying to become a certified coach and is hosting her own self-love retreats.
Kierra Jones brought in $45,000 in 40 days while taking our Abundance Breakthrough program. She is now successfully hosting online self-love programs for her boudoir portrait clients which have allowed her more time to be home with her new baby girl.
When Devanie McCartney signed up for our Abundance Breakthrough program, her goal was originally to make $6,000 in the next 30 days. Through our coaching program, she made over $13,000 that month! She shared, "Julie is inspirational, truly intuitive and a life saver. She helped me, healed me and gave me tools I will forever use in my life and business."
What can you expect from our Abundance Breakthrough program?
Participants will:
Learn how to create monthly reoccurring revenue for their business
Gain clarity on their ideal market
Receive intuitive guidance on what could be holding them back from receiving more money for their gifts and time
Develop marketing plan
Identify and release money blocks
Overcome mindset blocks
Learn how to set stronger boundaries between work & personal life
Create 90 day implementation plan for personal & professional development
How do you know that this will work for you? Check out these testimonials!
"Julie knows how to get to the heart of what's getting in your way using deep intuitive guidance. She has helped me tell my clients the truth about how they bring their magic and must do the work to see their results. Julie's approach is fun, direct, and a no bull style that brings intuitive coaching to a whole new level! Since participating in her Abundance Breakthrough program earlier last year, my business income increased last year by 67 percent. Thank you Julie!" -Kay Loughrey
"When I first met Julie, I just knew she was meant to guide me on this journey towards more abundance, more success, more love, and more growth. Julie is here to hold space for you, guide you, call you out, celebrate with you, and witness you. She is open and honest, she genuinely cares and wants the best for you, and isn't afraid to be vulnerable and heal and grow right alongside you."-Shay Perna
What's included?
Individual intuitive coaching from Julie ($555 value)
Money Intensive program ($499 value)
Workbook ($299 value)
Virtual Abundance Breakthrough Retreat ($3997)
Program value = $5350
Actual Program cost = $2997
When and where is it? (choose the date that works best for you!)
October 6-8, 2022- Virtual
February 16-18, 2023- Virtual

May 11-13, 2013 Virtual
Are you feeling the call and know you want to join us?
Submit your refundable $500 deposit to this link.
After we receive your payment, we'll send you a link to book a confirmation call with us to make sure that it's a right fit for you. If it is you pay the balance or get on a payment plan. If it's not a right fit, we'll refund your deposit so you have nothing to lose!
Have questions? Book a discovery call with Julie here to learn more about what to expect before submitting your deposit.